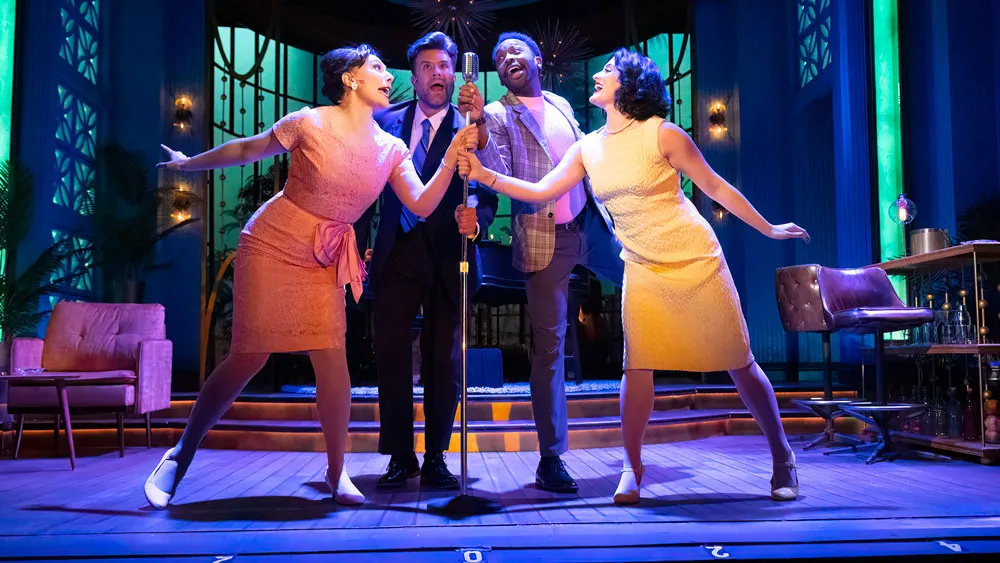 Review: Colorful and Brassy, "My Way" Brings to Life Sinatra Era
"Ol' Blue Eyes." "The Chairman of the Board." Francis Albert Sinatra was called by many names, He was also considered one greatest American singers of all time. Not only a singer, but an Oscar-winning actor as well in well known films, plus many television appearances and specials. Theatre by the Sea opens its 90th (!) season with a return to a show that they had previously produced back in 2009. Judging by the reception this weekend, it was a fine choice to go back and revisit this musical tribute.
"My Way: A Musical Tribute to Frank Sinatra" was created by David Grapes (original director) and Todd Olson (book), and brings the audience through no less than fifty of Sinatra's hits, from the very familiar to the very obscure. Brought to vivacious life by four singers and a three-piece band, this tribute celebrates not only Sinatra's life but also his legacy through a catalog of recognizable songs and their effect on American culture. Not only are the songs featured here, but the style of his era of fame, complete with martinis, tuxedos, and cigarettes.
The performers are Lucy Horton (Woman #1), Alyssa Giannetti (Woman #2), Danny Drewes (Man #1), and Christopher Brasfield (Man #2). Drewes is coming off of a tour of "Pretty Woman the Musical," and Giannetti recently performed with "Six" for Norwegian Cruise Lines. Brasfield has also toured with "Book of Mormon" and "Hairspray," and all three are making their TBTS debuts here to delighted and welcoming audiences. Horton is the only returning performer to this stage, having appeared back in 2013 as Jellylorum in "Cats," and while all four have magnificent voices, hers truly stands out.
Kyle Dixon brings another fabulous set design evoking the bygone era of '50s Las Vegas shows, or '60s television variety shows; it's truly spectacular. Complemented by lighting designer Katie Whittemore's skillful presentations and fabulous choreography by director Greg Santos, the show doesn't just provide a musical journey, it brings us back to an earlier time where not everything was hunky dory but somehow looked stylish and inviting. Interspersed between the hits are some expository tidbits about Sinatra himself, almost as though the "Chairman" himself were directing the action he knew best. Colorful and brassy, "My Way" gives us a welcome escape from our daily troubles and whips us back to a simpler time filled with grand melodies and stylish visuals.
"My Way: A Musical Tribute to Frank Sinatra" is running through June 11th at Theatre By The Sea, 245 Cards Pond Road, Wakefield, RI 02879. For information or tickets call 401-782-8587 or visit www.theatrebythesea.com.
---