1 thru 15 of 2243 Stories
The climate in New York City in 60 years could feel like Arkansas now. Chicago could seem like Kansas City and San Francisco could get a Southern California climate if global warming pollution continues at the current pace, a new study finds.
A new study suggests the practice of building huge stone monuments spread throughout ancient Europe from northwestern France.
Power-strapped North Korea is exploring two ambitious alternative energy sources — tidal power and coal-based synthetic fuels — that could greatly improve living standards and reduce its reliance on oil imports and vulnerability to sanctions.
Berlin's Tierpark zoo says its latest baby polar bear is "a perky, strong girl."
NASA's Opportunity, the Mars rover that was built to operate for just three months but kept going and going, rolling across the rocky red soil, was pronounced dead Wednesday, 15 years after it landed on the planet.
Democratic presidential prospect Michael Bloomberg is promoting a new documentary film on climate change, but the billionaire philanthropist says the one person he thinks should see it most likely never will because "it won't be running on Fox."
NASA is trying one last time to contact its record-setting Mars rover Opportunity, before calling it quits.
Scientists in Hungary on Tuesday protested government efforts to take control of their research funding, a move they say endangers academic freedom.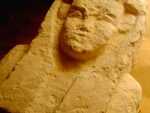 Egypt says archaeologists have uncovered an ancient workshop used to build and repair ships that dates back to the Ptolemaic era (332 B.C.-30 B.C.) in the Sinai Peninsula.
Harvard scholar Henry Louis Gates, Jr., hopes this season of his popular PBS series "Finding Your Roots" helps a divided U.S. see how all Americans have unique family links and how those family histories tell the story of the country.
The faraway space snowman visited by NASA last month has a surprisingly flat — not round — behind.
Harrison Ford offered an emphatic plea on Tuesday for protecting the world's oceans, calling out President Donald Trump and others who "deny or denigrate science."
As people peer into DNA for clues to health and heritage, man's best friend is under the microscope, too.
As a doctor and epidemiologist who studies sex, I bring good news for Valentine's Day. It's not just that sex is fun — it's also good for your physical and mental health.
As people peer into DNA for clues to health and heritage, man's best friend is under the microscope, too. More than a million dogs have been tested in little over a decade.
1 thru 15 of 2243 Stories