Top Story
The Democratic representative from Queens dwarfed the Democrats who are seeking President's job in a measurement of social media interactions with news articles by the trackin...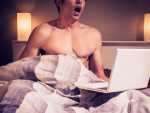 You might think that using "incognito" mode is a good way to secure a little privacy while seeing what's new in porn online, but that's not necessarily the case, a new study reveals.
The Environmental Protection Agency rejected a key legal challenge Thursday to a pesticide linked to brain damage in children, saying environmental groups had failed to prove that a ban was warranted.
When the internet replaced newspapers as a primary way to advertise homes and other property for sale, real estate brokers learned they had to be increasingly strategic about marketing online.
Passengers on a Southwest Airlines flight got more than a small bottle of water when they boarded their plane.
Long before President Donald Trump turned up the heat on four Democratic congresswomen of color, saying they should "go back" to their home countries, hateful rhetoric and disinformation about the self-described squad was lurking online.