1 thru 10 of 3822 Stories
Louis Vuitton's designer Virgil Abloh transported celebrity guests at Paris Fashion Week to the graffitied streets of New York in a dramatic menswear ode to Michael Jackson.
Fashion influencer Brian Sacawa from He Spoke Style offers his take on the latest menswear showings at London Fashion Week.
Designer Clare Waight Keller unveiled her first menswear collection for storied house Givenchy at Paris menswear week.
A Florida-based company featured on the television show "Project Runway All Stars" is kicking off a new line of leather accessories as part of an effort to help survivors of human trafficking.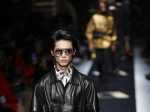 Milan menswear designers are sending clear signals for next fall and winter: Feminine touches are not only acceptable, they are necessary.
To stay on trend, Italian fashion houses are refashioning themselves for future growth.
Only in Milan does three days make for a Fashion Week. Designers cite a breakdown of fashion world rules. Designers cite a breakdown of fashion world rules.
By now, the two Milan Fashion Weeks dedicated to menswear have transformed themselves into platforms for co-ed shows and up-and-coming brands beyond the menswear stalwarts.
He Spoke Style offers easy tips for upgrading your winter look, including at least one piece that "elevates" the entire look and accessorizing wisely.
Jewelry, clothing and other Elvis Presley-related memorabilia have been sold at auction in Tennessee.
1 thru 10 of 3822 Stories