Top Story
Large format drinks (sangria, margarita pitchers, etc.) have been trending since the invention of Sunday brunch, but just as much wow factor can be found on the plate these days.
The owner of a Kentucky barbeque food truck got more heat than he bargained for when he began selling T-shirts with the message "I support LGBTQ: Liberty, Guns, Bible, Trump, BBQ."
Tattoo'd America celebrates the artistic, provocative and expressive qualities — as well as the sex appeal — of tattoo and body art.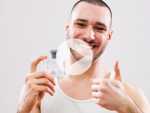 Our favorite style guru Alex Costa returns with his picks for how to smell your best this spring.
Sarah Jessica Parker and a British jeweler have settled a breach-of-contract lawsuit against the actress.
The "lord," as in Scott Disick, is spinning off and flipping out of the Kardashian family bubble with his own E! show.