Top Story
A poll of 2,000 Americans explored the sentimentality around keepsakes and found that 25 percent have held onto a keepsake from a previous relationship, while 43 percent harbor a k...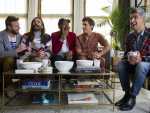 In "Queer Eye" Season 4, which hits Netflix Friday, the Fab Five get a bit personal but the makeover reality show still offers up the same kind comfort TV.
Even in the July heat of a French summer, when many are glued to the Tour de France on TV, on vacation, or both, a piping-hot sweat-inducing cassoulet still hits the spot.
According to a new poll, America's favorite vegetable has been crowned — and it may not be what you expect.
The martini's heyday began almost a century ago, but today's bartenders have some innovative takes on the classic cocktail.
The average American only gets 10 nights of perfect sleep in a month, according to new research.