Felicity Huffman's co-stars in a new Netflix movie say they found her remorseful about her role in a college admissions scandal.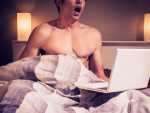 You might think that using "incognito" mode is a good way to secure a little privacy while seeing what's new in porn online, but that's not necessarily the case, a new study reveals.
Lawyers for Jussie Smollett on Friday filed motions contending that because the actor was the victim of an attack earlier this year in Chicago a judge should reverse his decision to appoint a special prosecutor.
The Indiana city where Democratic presidential candidate Pete Buttigieg is mayor is updating its police officers' body camera technology following the recent fatal police shooting of a black man.
Broadway legend Patti LuPone took to Twitter Thursday to call out Republican Sen. Lindsey Graham and his sexual orientation.
Cruise passengers drifted through the streets of Old San Juan Thursday as shop owners took plywood down from store windows and painted over graffiti demanding Gov. Ricardo Rosselló resign.
Democrats on the House Judiciary Committee who will question former special counsel Robert Mueller next week plan to focus on a narrow set of episodes laid out in his report.
Netflix has sent a cease and desist letter to Super Happy Fun America, the group responsible for organizing the upcoming Straight Pride Parade in Boston, telling them they are not allowed to use their logo or name in any materials.
The New Republic pulled queer writer Dale Peck's piece criticizing Pete Buttigieg for being homophobic. But was it? (You can read it here.)
Kevin Spacey's legal woes are not over, despite the collapse of the only criminal case brought against the two-time Oscar winner since he became mired in sexual misconduct allegations.