President Donald Trump took to Twitter Thursday to react to the latest developments involving "Empire" star Jussie Smollett.
Chicago Police Superintendent Eddie Johnson took it personally when detectives determined that "Empire" actor Jussie Smollett allegedly lied about being the victim of a racist and homophobic attack .
The studio behind the hit television show "Empire" says it is "evaluating the situation" regarding the charges against actor Jussie Smollett and is "considering our options."
A hard-working single mother in Fort Wayne, Indiana had the perfect response to a homophobic customer who left a hateful anti-LGBTQ message scrawled on his receipt. No wonder her video went viral.
"Empire" actor Jussie Smollett "took advantage of the pain and anger of racism to promote his career" when he made a false police report about an attack in Chicago, the city's police superintendent said Thursday.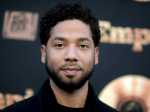 "Empire" actor Jussie Smollett turned himself in early Thursday to face accusations that he filed a false police report when he told authorities he was attacked in Chicago by two men who hurled racist and anti-gay slurs at him.
The brothers, identified by Schmidt as Abimbola "Abel" Osundairo and Olabinjo Osundairo, are of Nigerian descent. But they told a reporter at CBS2-Chicago that they were "born and raised in Chicago and are American citizens."
A transgender woman convicted of insurance fraud is serving time at a men's prison in North Carolina despite her repeated requests to transfer to women's housing.
The U.S. had more hate groups last year than at any point in at least the past two decades, according to an organization that tracks white supremacists and other far-right extremists.
It was 15 years ago this week that then-San Francisco mayor Gavin Newsom ushered in a bold stand for same-sex couples when he ordered city officials to issue them marriage licenses.