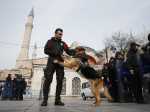 The white supremacist suspected in the mosque shootings that left at least 50 people dead in New Zealand had traveled to the Balkans in the past three years, where he toured historic sites.
Italy prosecutors have opened an investigation into the possible poisoning death of a Moroccan model who was a key witness in the trial against ex-Premier Silvio Berlusconi over his infamous "bunga bunga" parties.
The suspected New Zealand shooter carefully modeled his attack for an internet age.
Those who watched Brenton Tarrant growing up in the sleepy Australian country town of Grafton say they had no inkling of the potential evil he allegedly unleashed in merciless gunfire at two New Zealand mosques that claimed at least 49 lives.
When the gunman advanced toward the mosque, killing those in his path, Abdul Aziz didn't hide. Instead, he picked up the first thing he could find, a credit card machine, and ran outside screaming "Come here!"
Internet companies scrambled Friday to remove graphic video filmed by a gunman in the New Zealand mosque shootings that was widely available on social media for hours after the horrific attack.
The self-proclaimed racist who attacked a New Zealand mosque during Friday prayers in an assault that killed 49 people used rifles covered in white-supremacist graffiti and listened to a song glorifying a Bosnian Serb war criminal.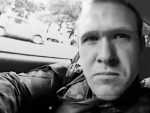 The gunman behind at least one of the mosque shootings in New Zealand that left 49 people dead on Friday tried to make a few things clear in the manifesto he left behind: He is a 28-year-old Australian white nationalist who hates immigrants.
A Broadway dancer who was convicted last month in the 2016 murder of his boyfriend has now been sentenced to 20 years, reported news sources.
The manifesto that the presumed New Zealand shooter published is shorter and "more sloppy" than the one written by a Norwegian right-wing extremist who killed 77 people in 2011, but expresses similar sentiments, a Swedish terror expert said Friday.