1 thru 10 of 1558 Stories
Lawyers for two Air Force members who are HIV-positive urged a federal appeals court Wednesday to uphold an injunction that bars the Trump administration from continuing with discharge proceedings against them.
Scientists are reporting the first use of the gene-editing tool CRISPR to try to cure a patient's HIV infection by providing blood cells that were altered to resist the AIDS virus.
If the Standing Committee's recommendations are adopted, they could diminish the harms experienced by women living with HIV under Canada's current approach to criminalization.
Winifred "Winnie" Byanyima, a former Ugandan politician and the current head of the humanitarian group Oxfam International, was appointed the new executive director of the U.N. AIDS agency on Wednesday.
A Georgia woman told police she lied about being HIV-positive in a viral Facebook Live rant in which she claimed to have intentionally infected others.
A Georgia woman who went on a viral Facebook Live rant claiming she was HIV-positive and intentionally infecting others is now being investigated by police.
Health officials and AIDS advocates in San Francisco hope to expand the use of an effective HIV prevention drug with a new approach that requires fewer pills than the standard once-a-day regimen.
Are HIV-risk behaviors intimately tied to male power? A South African researcher examined this view and its impact on HIV transmission.
One seemingly indestructible HIV-like strain has earned the nickname "death star" due to the strain's reputation for killing off hopes for potential vaccines and immunotherapies. A team at the Scripps Research reports beating that challenge.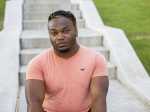 Roughly 20 states have laws that make it a crime for people with HIV to have sex without first informing their partner of their infection.
1 thru 10 of 1558 Stories