Gay Phoenix: The Latest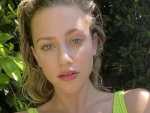 "Riverdale" star Lili Reinhart took to Instagram Wednesday to come out as bisexual.
After being pushed by CNN's Don Lemon, Ellen DeGeneres tweeted tearful support for protesters on Monday. This followed her deleting a tweet after much criticism over the weekend.
The Roman Catholic bishop of Brooklyn, already under a church investigation for alleged sex abuse, has been accused by a second man of abuse in the 1970s, when the bishop was a parish priest in New Jersey.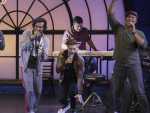 Just two days before it was to begin streaming, "We Are Freestyle Love Supreme," a documentary about the hip-hop improv group with Lin-Manuel Miranda and friends, has postponed its release out of solidarity with protesters.
It's the time of the year when Supreme Court justices can get testy. They might have to find a new way to show it.
Former President Barack Obama is taking on an increasingly public role as the nation confronts a confluence of historic crises that has exposed deep racial and socioeconomic inequalities in America and reshaped the November election.
For weeks, President Donald Trump has been eager to publicly turn the page on the pandemic. Now fears are growing within the White House that the mass protests over the death of George Floyd may bring about its resurgence.
Brazen thefts have been carried out nationally by well-coordinated criminals who capitalize on chaos and use both the protests and other tactics to throw police off their trail.
The state of Minnesota on Tuesday launched a civil rights investigation of the Minneapolis Police Department.
More than 70 comic strips and panels will each have six symbols hidden in the artwork to honor workers on the frontlines of the coronavirus.
Demonstrations in cities across the U.S. to condemn racism and police abuses remained large but turned notably more subdued on the eve of a Thursday memorial service for George Floyd.
With a new normal coming to be, how does the culture handle sexual contact?
President Donald Trump said he is seeking a new state to host this summer's Republican National Convention
Sweden's chief epidemiologist on Wednesday defended his country's controversial coronavirus strategy, which avoided a lockdown but resulted in high death rates.
Swish Dental is just one of a growing number of dental practices nationwide that in the past month have begun charging patients an infection control fee between $10 and $20.
Honda is recalling nearly 1.4 million vehicles worldwide because their fuel pumps could fail and cause engines to stall or lose power.
A recent survey of 2,000 Americans showed that recycling and bold action towards sustainability means a lot to the modern consumer.
Have you decided a 5K or marathon is in your future? Or are you just trying to burn through some of the stress of a pandemic world? In either case, if you're new to running it's important to begin your new exercise routine with care.
Passengers at Brussels airport could be denied access to flights if their body temperature exceeds 100.4 degrees Fahrenheit as part of measures aimed at limiting the spread of the coronavirus.
An adult performer apparently attempted suicide after his racist comments led to content-sharing sites cancelling his account and a social media backlash.