1 thru 10 of 1451 Stories
"We're trying to build not just a skincare company but a consumer lifestyle brand that will expand far beyond the shower, and hopefully inspire a lot of people to do a lot of good things," says Beast Brands's Jay Wilkison.
"Queer Eye" star Antoni Porowski debuted a new haircut over the weekend and the Internet quickly took notice.
So, you're familiar with CBD, but what's a terpene? Should you consider CBG or CBN as a sleep aid? Groovy Hemp Company is ready to give you the lowdown on all these questions and inspire you to try a few new hemp-based health and beauty products.
"You want the best ingredients," says Infused CBD Marketplace owner Paul Talbot. Find out his top recommendations.
Watch YouTube influencer Jose Zuniga get fired up over his top tips for looking your best this summer.
Drugstore chains Walgreens and CVS Health say they will stop locking up beauty and hair care products aimed at black women and other women of color, joining Walmart in ending a practice at some stores that has drawn the ire of customers.
YouTube style expert Alex Costa offers his tips for how to manage your COVID coif.
A Michigan court on Thursday ordered a barber to close his shop and stop defying the state's coronavirus restrictions, though he vowed to keep cutting hair.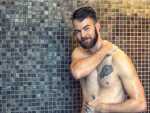 As temperatures rise, so does the beating on our skin. Fortunately, there's an arsenal of skincare lines to tackle the daily grind.
Out actor Cheyenne Jackson took to Instagram over the weekend to open up about his struggles with his hair, noting that he's had five hair transplants.
1 thru 10 of 1451 Stories