Search Results
A new study reveals low PrEP use and poor access to HIV care are contributing factors for HIV infection for Black men in the South who have sex with men.
This week's edition of Gay Twitter includes hilarious reactions the new season of "Selling Sunset," Spotify Wrapped, and much more!
The holidays are here and ready to celebrate in person. Opportunities to attend concerts and seasonal music events are plentiful, and most performance venues are back to full capacity.
Caleb Teicher & Company make their Bay Area debut at Zellerbach Hall on Dec. 5 with "More Forever," a jazz/tap/Lindy Hop ensemble work, performed in a 24-foot sandbox with a live original score, composed and performed by virtuoso pianist Conrad Tao.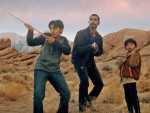 Far different than what you're expecting, "Encounter" is a compelling look at the effects of war, with a standout performance from Riz Ahmed.
Denis Villeneuve's mesmerizing, gorgeous adaptation of Frank Herbert's novel stars a great cast. Ambitious and absorbing, it explores politics, colonialism, oppression, and power dynamics.
Michael Patrick King, writer and director of "Sex and the City" as a TV series and movie franchise and now a writer on "And Just Like That..." says the new show was never planned to include Samantha Jones.
With his newest film, Paolo Sorrentino remains a visionary but creates a work of tender intimacy
"Nightmare Alley" doesn't match up to the sum of its beautiful parts.
A profoundly moving film about those who feel "other," and their struggle to embrace their identity.