Top Story
Costa Rica is expected to become the latest country to legalize same-sex marriage early Tuesday when a ruling from its supreme court goes into effect ending the country's ban.
1 thru 10 of 53010 Stories
After it was announced that AIDS and LGBTQ activist Larry Kramer died Wednesday at 84, tributes from fellow activists, celebrities and others soon came pouring in on social media.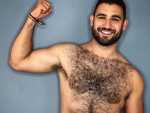 When Mr. Gay World 2020 had to be put off to next year, the plan was for first runner-up from 2019 to serve an interim term. Then an ironic twist emerged - one with a heroic tinge.
The strongman leader of Russia's province of Chechnya went live on Instagram Wednesday to insist that he was feeling well, in an apparent attempt to dispel media reports about his hospitalization with COVID-19.
NASA is rolling out the International Space Station's red carpet for Tom Cruise to make a movie in orbit.
Larry Kramer, one of the most prominent activists to the AIDS crisis in the 80s and 90s, died Wednesday in Manhattan, according to The New York Times. He was 84.
President Donald Trump on Wednesday threatened social media companies with new regulation or even shuttering after Twitter added fact checks to two of his tweets.
NBC "Tonight" show host Jimmy Fallon has apologized for doing an impersonation of fellow comic Chris Rock while in blackface during a 2000 episode of "Saturday Night Live."
The president of Zambia has announced a pardon for a same-sex couple that had been sentenced to 15 years in prison for the crime of being in a loving relationship.
Kathy Griffin has charged back into controversy with a wisecrack about a "Syringe with nothing but air inside it" — seemingly, her prescription for the current president.
A Virginia school board defended its transgender bathroom ban before a federal appeals court, as a transgender man barred from using the boys bathroom in high school argued that the policy discriminated against him and violated his constitutional rights.
1 thru 10 of 53010 Stories