Top Story
End of life care is not a straightforward process. And for patients from the LGBTQ community, the process presents a whole host of barriers that they and their families may face.
After it was announced that AIDS and LGBTQ activist Larry Kramer died Wednesday at 84, tributes from fellow activists, celebrities and others soon came pouring in on social media.
Larry Kramer, one of the most prominent activists to the AIDS crisis in the 80s and 90s, died Wednesday in Manhattan, according to The New York Times. He was 84.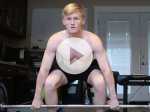 Cole Baker tackled 300 reps of six different exercises. Can you handle it, too?
Blood clots that can cause strokes, heart attacks and dangerous blockages in the legs and lungs are increasingly being found in COVID-19 patients, including some children.
For clients in need of warmth and reassurance, does online therapy work? Studies and one psychologist's experience suggest it does.
Injected once every eight weeks, recent studies reveal that the drug cabotegravir safely and effectively prevents HIV acquisition in men who have sex with men and transgender women who have sex with men.
Manaus is one of the hardest hit cities in Brazil, which officially has lost more than 23,000 lives to the coronavirus. But the toll is likely a vast undercount.
There are many legitimate concerns about how gyms and fitness studios can safely reopen without furthering the spread. But infectious disease experts say risk can be greatly mitigated.