Gay Phoenix: The Latest
The late Whitney Houston has earned her third diamond-certified album, becoming the first Black artist to achieve the feat.
Jon Stewart is returning to TV, more than five years after bowing out as host of "The Daily Show" and with a new home at Apple TV+.
On Monday, Republican Sen. Susan Collins cast her vote against President Donald Trump's Supreme Court pick without any speech and quickly headed home to Maine to try to save her political career.
President Donald Trump can still be a potent television draw, although in the case of "60 Minutes" this past week, it probably wasn't what he intended.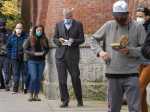 Americans aren't accustomed to worrying about violence or safety ahead of an election. But after months filled with disease, disruption and unrest, Americans are worried that Election Day could become a flashpoint.
President Donald Trump's campaign has a bold theory for how he will win reelection: It can tap a universe of millions of supporters who did not vote for him in 2016 but will do so this time.
The COVID-fueled surge has tapered off as patients venture back to doctors' offices. But medical professionals and health experts predict that when the pandemic is over, telehealth will still play a much larger role than before.
If President Donald Trump wins reelection next week, it seems unlikely he will unveil the health plan he's been promising since before his election in 2016. Still, other aspects of health care could be featured in his second-term agenda.
On Tuesday, a Nigerian court judge tossed a case in which 47 men were "charged with public displays of affection with members of the same sex."
The upcoming reboot of "Saved by the Bell" now has a trailer.
A Salt Lake City man accused of raping a lesbian woman and telling her that he was going to "fix the gay" has been released from prison without bail pending his next court date.

The CW has given "Batwoman" fans a glimpse of Ryan Wilder with two brand new photos.
How comfortable would you be taking a road trip to a destination with no LGBTQ anti-discrimination laws? It's a conundrum that many LGBTQ travelers face as they choose drivable destinations over long-haul flights.
U.S. government officials are putting an early end to a study testing an Eli Lilly antibody drug for people hospitalized with COVID-19 because it doesn't seem to be helping them.
If the Supreme Court throws out the Affordable Care Act, your finances and your future could pay the price.
Daimler, the maker of Mercedes-Benz luxury cars and Freightliner trucks, saw third-quarter profit rebound as the company clamped down on costs and auto sales recovered after the coronavirus lockdowns.
Four episodes into her new YouTube show, "Stump Sohla," part of the expanding "Babish Culinary Universe" channel, Sohla El-Waylly has yet to be stumped by a food challenge.
Deaths per day from the coronavirus in the U.S. are on the rise again, just as health experts had feared, and cases are climbing in practically every state.
A solo trip to the Hudson Valley offers one writer the opportunity to ponder his queerness among cemeteries, towering sculptures and a stroll down Main Street.
Should the government pay bars, many restaurants and event venues to close for the winter? Some experts say yes.