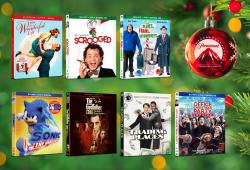 IT'S A WONDERFUL LIFE

Experience the life-affirming message of director Frank Capra's enduringly popular classic all over again when IT'S A WONDERFUL LIFE arrives in a collectible 4K Ultra HD Combo Steelbook on November 3, 2020 from Paramount Home Entertainment. IT'S A WONDERFUL LIFE in 4K delivers amazing clarity with sharper and brighter images for a sensational home viewing experience. An ideal holiday gift, the 4K Ultra HD Combo Steelbook boasts collectible packaging and a mini reproduction of a vintage film poster.

SCROOGED

Celebrate the 30th anniversary of the high-spirited Christmas classic Scrooged! Comedy legend Bill Murray stars in this uproarious take on Charles Dickens' classic tale, which has become a perennial favorite during the holidays. The film also features an all-star cast including Karen Allen, John Forsythe, Bobcat Goldthwait, Carol Kane, Robert Mitchum, and Alfre Woodard. Frank Cross (Murray) is an uncaring, and unforgiving television executive whose live production of 'A Christmas Carol' is more important than any true meaning of Christmas. Before the night is over, he'll take a hilarious journey through his past and into the future to find redemption and put a little love in his heart.

PLANES, TRAINS, AND AUTOMOBILES

Produced, written and directed by John Hughes, Planes, Trains and Automobiles stars comedy greats Steve Martin and John Candy. The uproarious classic follows a businessman (Martin) who is struggling to get home for Thanksgiving, but burdened by one travel mishap after another, as well as the company of an annoying traveling salesman (Candy). Filled with outrageously funny situations and a generous helping of warmth, the film also features appearances by Michael McKean, Edie McClurg and Kevin Bacon.

SONIC THE HEDGEHOG

Powered with incredible speed, Sonic the Hedgehog (voiced by Ben Schwartz), aka The Blue Blur, embraces his new home on Earth. That is, until he accidentally knocks out the power grid and sparks the attention of super-uncool evil genius Dr. Robotnik (Jim Carrey). Now it's super-villain vs. super-sonic in an all-out race across the globe to stop Robotnik from using his unique power for world domination. Sonic teams up with The Donut Lord, aka Sheriff Tom Wachowski (James Marsden), to save the planet in this action-packed hit that's fun for the whole family.

THE GODFATHER: CODA - THE DEATH OF MICHAEL CORLEONE

Just in time for the 30th anniversary of The Godfather: Part III, director/screenwriter Francis Ford Coppola has re-edited the final film in his epic Godfather trilogy. This new version, entitled Mario Puzo's THE GODFATHER, Coda: The Death of Michael Corleone, achieves Coppola and screenwriter Puzo's original vision for the finale, which has been meticulously restored for the finest presentation of the Corleone saga's last chapter.

TRADING PLACES

One of the funniest, most outrageous comedies of the 80s arrives on Blu-ray as part of the Paramount Presents line. Newly remastered from a 4K film transfer supervised by director John Landis, TRADING PLACES cemented Eddie Murphy's star status. The limited-edition Paramount Presents Blu-ray Disc™ is presented in collectible packaging that includes a foldout image of the film's theatrical poster and an interior spread with key movie moments. The film will also be available on 4K Ultra HD Digital. The very rich and extremely greedy Duke Brothers (Don Ameche and Ralph Bellamy) wager over whether "born-loser" Billy Ray Valentine (Eddie Murphy) could become as successful as the priggish Louis Winthorpe III (Dan Akroyd) if circumstances were reversed. Alongside the street-smarts of Ophelia (Jamie Lee Curtis), Winthorpe and Valentine are a trio ready for a riotous revenge that culminates on the commodities trading floor in New York City.

OFFICE CHRISTMAS PARTY

You're invited to the most outrageous holiday party of the season. When the CEO decides to close her hard-partying brother's branch, he and his fired up co-workers decide to throw an epic office party to land a VIP client and save everyone's jobs.
Enter this contest
If you already have an account with EDGE, all you need to do is log in; we'll pull your address information from your account and simply ask you to verify it. If you do not yet have an account with us, register now! It's easy and free, and you'll never have to type in your personal information again. If you prefer to enter this information manually, you can use the manual entry link below.
Register
Click here for contest rules.
* Please be aware that creating multiple accounts for the same person will disqualify you.