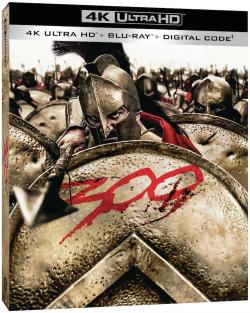 WARNER BROS. HOME ENTERTAINMENT ANNOUNCES THE GROUNDBREAKING

300

TO BE RELEASED ON 4K UHD WITH HDR BLU-RAY COMBO PACK AND DIGITAL

DIRECTOR ZACK SYNDER'S VISIONARY FILM TO BE AVAILABLE IN 4K RESOLUTION WITH HIGH DYNAMIC RANGE (HDR) FOR THE FIRST TIME

Warner Bros. Home Entertainment announced today that 300, the highly-acclaimed 2007 cutting-edge, heart-pounding, visual masterpiece from director Zack Snyder, will be released on Ultra HD Blu-ray™ Combo Pack and Digital on October 6. Based on the stylized graphic novel from icon Frank Miller (Sin City), 300 is an epic action-adventure about the 300 Spartan warriors led by the heroic King Leonidas who challenged Xerxes and his massive Persian army at the ancient Battle of Thermopylae. Facing insurmountable odds, they fought to the death to defend their honor and freedom, inspiring all of Greece to unite against the enemy.

The epic graphic novel by Frank Miller (Sin City) assaults the screen with the blood, thunder and awe of its ferocious visual style faithfully recreated in an intense blend of live-action and CGI animation. Retelling the ancient Battle of Thermopylae, it depicts the titanic clash in which King Leonidas (Gerard Butler) and 300 Spartans fought to the death against Xerxes (Rodrigo Santoro) and his massive Persian army. Experience history at swordpoint. And moviemaking with a cutting edge.

From visionary filmmaker Zack Snyder (Watchmen, Man of Steel, Batman v Superman: Dawn of Justice), 300 combines stunning live action with virtual backgrounds and features spectacular performances from Gerard Butler (Reign of Fire, Olympus Has Fallen), Lena Headey (TV's "Game of Thrones," The Purge) David Wenham (The Lord of the Rings: The Two Towers, The Lord of the Rings: The Return of the King) and Rodrigo Santoro (TV's "Westworld," Love Actually).

Ultra HD* showcases 4K resolution with High Dynamic Range (HDR) and a wider color spectrum, offering consumers brighter, deeper, more lifelike colors for a home entertainment viewing experience like never before.

300 will be available on Ultra HD Blu-ray Combo Pack for $24.99 (expected retail price) and features an Ultra HD Blu-ray disc with the feature film in 4K with HDR and a Blu-ray disc of 300. Fans can also own 300 in 4K Ultra HD via purchase from select digital retailers beginning on October 6. The Blu-ray disc of 300 will include more than 3 hours of previously released special features, including commentary from Zack Snyder.
Enter this contest
If you already have an account with EDGE, all you need to do is log in; we'll pull your address information from your account and simply ask you to verify it. If you do not yet have an account with us, register now! It's easy and free, and you'll never have to type in your personal information again. If you prefer to enter this information manually, you can use the manual entry link below.
Register
Click here for contest rules.
* Please be aware that creating multiple accounts for the same person will disqualify you.