Since its launch, "RuPaul's Drag Race" has transformed the art of drag into a marketing juggernaut — and a multi-faceted, multi-million-dollar industry.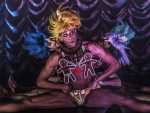 LGBTQ interventions on canonical works can carry significant cultural weight, moving the dial on how audiences think about the world and queer people's lasting place in it.
Some of the best queer and ally journalists in the industry contributed to EDGE this year on broad range of topics from culture and politics to LGBTQ+ advancements across a variety of industries.
The LGBTQ+ community has one of the highest smoking rates among disparity populations. Decades of target marketing by 'Big Tobacco' companies is a major contributing factor.
The LGBTQ+ community is disproportionally affected by the U.S. prison system, but a crusade for change is underway.
Male erotica is making a comeback, though our definition of what's hot trades objectification for real-life sensuality.
As one of the largest Pride events in the world descends upon Copenhagen, Denmark, and Malmo, Sweden, experts reveal why and how certain destinations emerge as LGBTQ+ hotspots.
The idea that sexual desire might be understood as mere preference — like a favorite ice cream flavor — is reductive. "Just a preference" is a familiar and reflexive shield for what experts call racialized sexual discrimination.
"I have dogs and cats, so maybe that sets me up for bisexuality very well," jokes Margaret Cho. Our attitudes about where the "B" fits in LGBTQ is a hot topic in the queer community and beyond.
The gaming industry is the latest big business to face a diversity reckoning, with independent creators and publishers advocating for LGBTQ inclusion.