Review: 'The Secret Garden' Will Flourish for Some, but Wilt for Others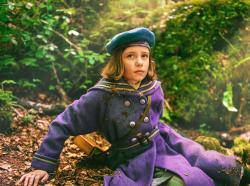 There have been many adaptations of Frances Hodgson Burnett's classic novel "The Secret Garden," whether in film or television, so it's always a bit of a surprise when another version comes around again. I guess it's sort of like "Little Women," where each new generation gets one to call their own.

For this version of "The Secret Garden," the producers come from popular franchise fantasies "Harry Potter" and "Paddington," so it does make a bit of sense that they would be the choice for the update. Weirdly, though, the problem isn't in the producers or actors or director, it's in the source material. Sure, it's a classic novel, but it's story is thin, and — especially in this new version — we're never sure whose story we're watching. Is it Mary Lennox (Dixie Egerickx) the war orphan now living in her uncle's enormous estate but feeling all kinds of lonely and petulant? Or is it Colin (Edan Hayhurst), the bratty, sickly cousin that is kept in his room and has taken on an equally petulant and lonely visage? Or is it about her uncle Lord Archibald Craven (Colin Firth), the grumpy hunchback who is lonely and angry?

In the end, maybe it's the loneliness that is the key to the story, but when you begin with Mary surviving the death of her parents and her discomfort with beginning a new life in a cold, sterile manor where she has to fend for herself for the first time, you wonder why the story ends up being more about Dickson and his dad.

It's hard to connect to anyone in the story of the "The Secret Garden," but the filmmakers try. They utilize gorgeous sets, beautiful cinematography, an uplifting (yet expected) score, and add numerous touches of magic that weren't always evident in other adaptations. Because of this, the film is a feast for the eyes, but it still leaves you a little cold when the third act finishes. It's also odd, because if you don't really know the story the third act begins without you even realizing it. So, suddenly, the movie is over and you're left thinking, "Oh."

Television director Marc Munden does make an impact here, and it will be interesting to see what he does next. It feels like he was told if he wanted to move into film, he needed to do this studio project first. The problem is, I'm not sure who the audience will be. It's too disturbing and gloomy for young kids, so maybe it's aimed more at more bookish teens. But otherwise, you sort of wonder, why did they bother?

The cast works well, but the main characters are so unlikeable that it's hard to care. And poor Julie Walters has nothing to do as governess Mrs. Medlock. Even Colin Firth seems like he was doing someone a favor. The most intriguing characters are Dickson (Amir Wilson) and his mother, caretaker Martha (Isis Davis). Their story becomes more appealing, yet we learn little about them.

Truth be told, I've never read the book, but I've seen a few adaptations of the story and it's never connected with me, so that might inform my take on this. I do appreciate the look and feel of the film, and I wasn't ever bored; I just didn't quite know who I was supposed to care about, or whose story I was supposed to be invested in. For those that are fans of the book, however, this might just fit the bill.

For everyone else, "The Secret Garden" has magic, but it's not enough to cast a spell.
Kevin Taft is a screenwriter/critic living in Los Angeles with an unnatural attachment to 'Star Wars' and the desire to be adopted by Steven Spielberg.
Comments on Facebook