Gay Phoenix: The Latest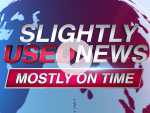 RBG has left us; what happens next? Don't worry, we have all the comfort and hilarity you need in this week's episode of Slightly Used News...
A civic-minded group called the Lollipop Guild in Lewis County, California, put up a rainbow sign espousing acceptance and inclusion. Vandals promptly struck, tearing the sign down.
Noah Purvis was brought on to CBS's "Love Island" to shake things up. He did do that.
Utah Republican Sen. Mitt Romney said he supports voting to fill the late Justice Ruth Bader Ginsburg's seat on the Supreme Court, all but ensuring President Donald Trump has the backing needed to push the nomination over Democratic objections.
Evergreen '90s sitcom "Friends" is about to get a table read in much the same way "The Nanny" recently did, but with a twist: The read, scheduled for this evening (Sept. 22) on Zoom, will have an all-Black cast.
In his last dispatch, EDGE contributor C.J. Prince says goodbye to a different kind of Toronto International Film Festival.
Glory holes are celebrated in João Dall'Stella's cheeky 3-minute video "Stalls." EDGE spoke to the filmmaker about the short.
A hunky firefighter took to TikTok to extinguish some inflammatory conspiracy theory claims about the wildfires raging on America's West Coast, and threw off enough sparks to set social media ablaze.
If the executive branch were to overrule the FDA's scientific judgment, a vaccine of limited efficacy and, worse, unknown side effects could be rushed to market.
The novelty of television stars getting Emmy Awards delivered to their homes wasn't enough to keep the annual show from slipping further in popularity.
Hollywood's unions announced Monday that they have reached an agreement on pandemic protocols with major studios that will allow the broad resumption of production of films and television after six months of stagnant sets and widespread unemployment.
Francesco Rosi's exhaustive adaptation of "Christ Stopped at Eboli" gets an equally exhaustive Blu-ray release from the Criterion Collection. If you're interested in Italian history, consider this a must-buy.

Microsoft is buying the company behind popular video games The Elder Scrolls, Doom and Fallout.
In a few months medical student Ricky Rosen has amassed some 330,000 followers on TikTok. Check out why.

From Broadway to Hollywood, many actors, directors, backstage workers, musicians and others in the performing arts face similar coverage suspensions.
Edmunds' experts performed a full evaluation of the Kia K5 to answer the question: Is it better than the Honda Accord?
Along with her glasses, lace gloves and fabric hair ties known as scrunchies, they were part of the signature style of the justice, who died last week at age 87.

The top U.S. public health agency stirred confusion by posting — and then taking down — an apparent change in its position on how easily the coronavirus can spread from person to person through the air.
Are you ready for a weekend getaway? We've canvassed the country, looking for the best LGBTQ-friendly fall vacations. Check out our top picks — no passport required!
Adult Filmmeister Michael Lucas took his latest shoot on the road — to Nottingham, England to be precise, and appears to have flaunted Britain's COVID-19 guidelines.