Top Story
The anti-LGBTQ school where Karen Pence is now working has a care package coming from The Trevor Project: 100 copies of a book about a gay bunny with the same name as the Pence fam...
1 thru 10 of 46153 Stories
Justin Timberlake has pulled some sunshine from his pocket for the patients at a Texas children's hospital.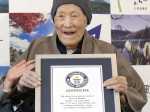 The world's oldest man has died at his home — a hot springs inn — in northern Japan at the age of 113.
A diocese in Kentucky apologized Saturday after videos emerged showing students from a Catholic boys' high school mocking Native Americans outside the Lincoln Memorial after a rally in Washington.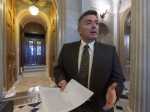 Republican Sen. Cory Gardner helped mastermind the GOP's midterm strategy of pushing Senate candidates closer to President Donald Trump.
In a bid to break the shutdown stalemate, President Donald Trump offered to extend temporary protections for young people brought to the U.S. illegally as children and those fleeing disaster zones in exchange for his long-promised border wall.
While the Trump administration decides whether to adopt a controversial policy that could jeopardize the legal status of immigrants who use public programs like Medicaid, doctors and clinics are torn between informing patients about the potential risks.
The first tangible signs of movement may be emerging in the impasse that has shut down the government for weeks.
Advocates for gender equality are reckoning with what one called a "wonderful challenge" — four or more women running for president in 2020.
The Sackler family owns Purdue Pharma, the privately held drug company that has made billions from OxyContin, and Sacklers hold most of the seats on the board.
Multiple outlets have reported that Sony Music has dropped embattled R&B star R. Kelly from its roster.
1 thru 10 of 46153 Stories