1 thru 10 of 6957 Stories
A hamburger a week, but no more — that's about as much red meat people should eat to do what's best for their health and the planet, according to a report seeking to overhaul the world's diet.
Even as the opioid epidemic continues, the toll of methamphetamine use, also known as meth or crystal meth, is on the rise, too.
Health officials are looking into a possible link between prescription opioids and a horrific birth defect.
An Idaho woman who thought she was gaining weight because of menopause discovered she actually had a 50-pound tumor that had been growing inside her for decades.
There's a troubling link between a fat-rich diet common in the West and brain-related ailments that can actually impair our ability to avoid overeating.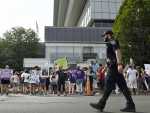 A member of the family that owns OxyContin maker Purdue Pharma told people at the prescription opioid painkiller's launch party in the 1990s that it would be "followed by a blizzard of prescriptions that will bury the competition."
For a growing number of patients, a trip to the dentist isn't what it used to be — and that's how they want it.
The authors of "Whats Your Season? Healing Principles and Recipes for Your Body Type" offer a fresh approach to optimize your health
A recent study out of Oregon suggests emergency medical responders — EMTs and paramedics — may be treating minority patients differently from the way they treat white patients.
A U.S. judge in California on Sunday blocked Trump administration rules, which would allow more employers to opt out of providing women with no-cost birth control, from taking effect in 13 states and Washington, D.C.
1 thru 10 of 6957 Stories