Top Story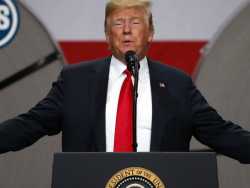 Back in December 2017, Trump gave companies a gift when he signed a measure that slashed the corporate tax rate from 35 percent to 21 percent. The next month, though, he started sl...
1 thru 10 of 11786 Stories
Rihanna is suing her father over his use of their last name for a business.
A Houston hospital has removed its president and several other leaders following an unusually high number of patient deaths, including a recent case in which a patient died after receiving a transfusion of the wrong blood type.
Slow as molasses? This treacle didn't trickle. It was a sticky, deadly tsunami that flattened an entire Boston neighborhood within seconds.
President Donald Trump's Cuba policy is driving hundreds of millions of dollars from the island's private entrepreneurs to its military-controlled tourism sector, the opposite of its supposed goal, new statistics say.
For years, cash languished at the bottom of the investment rankings - but suddenly cash is king again.
Global shares were mostly higher Tuesday as British lawmakers prepared to vote on a Brexit deal that has drawn strong opposition at home.
Netflix is raising its U.S. prices by 13 percent to 18 percent, its biggest increase since the company launched its streaming service 12 years ago.
The Food and Drug Administration said it will resume inspections of some of the riskiest foods such as cheeses, produce and infant formula as early as Tuesday.
Besides the economic impact, a shutdown warps the nation's capital on a cultural, recreational and logistical level -- touching everybody from garbage collectors to young parents, prospective newlyweds to aspiring Eagle Scouts.
With the government mired in shutdown week four, President Donald Trump rejected a short-term legislative fix and dug in for more combat Monday, declaring he would "never ever back down."
1 thru 10 of 11786 Stories