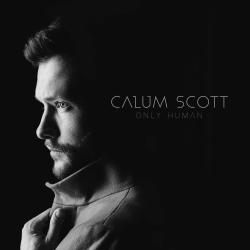 CALUM SCOTT'S DEBUT ALBUM - ONLY HUMAN - OUT NOW ON CAPITOL RECORDS

Only Human, Calum Scott's debut album is out now on Capitol Records and available to download/stream at all digital providers. The breakout U.K. artist, singer and songwriter's lead single, "You Are The Reason" has surpassed over 100 million worldwide streams, while views of the official video topped 20 million in the first two weeks and are fast approaching 60 million. Calum recently teamed up with vocal powerhouse and 3-time Grammy nominee Leona Lewis on a stirring rendition of "You Are The Reason." Written by Calum, Jon Maguire and Corey James Sanders, the emotionally resonant piano ballad is one of numerous songs produced for the album by Fraser T Smith (Adele, Ellie Goulding). Calum also worked with producers Jayson DeZuzio, (Skylar Grey, Imagine Dragons) Oak Felder, (Alessia Cara, Demi Lovato), Oscar Gorres (Taylor Swift, Britney Spears), and Phil Paul (Maroon 5).

"To me, Only Human means being okay with how you feel," says Calum. "My hope is that these songs encourage people to embrace who they are, so that there's a little less fear in the world and a lot more love."

With his delicate storytelling, Calum examines unrequited longing on tracks like the aching piano ballad "Hotel Room." "Only You" blends graceful beats with lyrics that capture adolescent isolation ("So they bullied me with silence/Just for being who I am"), then pay tribute to a beloved friend who brought him solace, while "What I Miss Most" unfolds as a triumphant homage to his hometown of Kingston upon Hull, located in Northern England.

Calum's poignant version of Robyn's "Dancing On My Own" has become a global viral sensation and is now certified Platinum in five countries, including the U.S. It was the best-selling U.K. single of 2016 by a British solo artist and was nominated for a Brit Award for Best Single. The song has over 550 million streams worldwide, while views of the video are approaching 250 million.

In addition to 11 original tracks, the album also includes Calum's evocative acoustic version of Bob Dylan's "Not Dark Yet." See below for full track listing.

http://www.calumscott.com

Enter to win!

Thanks for visiting EDGE!


Enter this contest
If you already have an account with EDGE, all you need to do is log in; we'll pull your address information from your account and simply ask you to verify it. If you do not yet have an account with us, register now! It's easy and free, and you'll never have to type in your personal information again. If you prefer to enter this information manually, you can use the manual entry link below.
Register
Manual Entry
Click here for contest rules.
* Please be aware that creating multiple accounts for the same person will disqualify you.