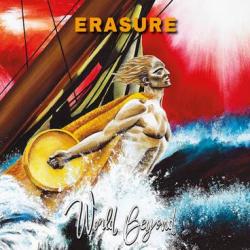 ERASURE (Andy Bell and Vince Clarke) have announced a collaboration with Echo Collective, the Brussels-based collective of post-classical musicians best known for their ongoing collaborative work with A Winged Victory for the Sullen, Johann Johannsson, Dustin O'Halloran and Stars of the Lid. The collaboration sees the entirety of Erasure's latest album, World Be Gone, given a post-classical rework. World Beyond was recorded over ten days by Andy Bell and seven performers from Echo Collective: Margaret Hermant (violin, harp), Neil Leiter (viola), Thomas Engelen (cello), Jaroslaw Mroz (double bass), Gary De Cart (piano) and Antoine Dandoy (vibraphone, glockenspiel).

The album was produced by Echo Collective, mixed by Gareth Jones and arranged by Echo Collective's Gary De Cart, Margaret Hermant and Neil Leiter. Neil Leiter from Echo Collective explains, "The process of this project was really deconstruction and re-purposing. We started by listening to each track layer by layer, and then, using the layers that inspired us or we found essential, we reconstructed the tracks instrumentally. Each of the instruments in the band setup were chosen for their inherent capacities and roles. Often choosing which layer to put with each instrument was a question of matching roles and colors. By stripping so much away, we were able to find a new space for Andy to fill. The text of the songs became much more important in the overall construction of the songs, and Andy was free to explore more dynamics and vocal range."

The tracks featured on World Beyond show award-winning songwriters Vince Clarke and Andy Bell in a more reflective mood, giving the world and recent political upheavals a thoughtful examination. This new collaboration gives a new dimension to the tracks - including fan-favorites "Still It's Not Over", which tackles the LGBT rights movement post-Stonewall, and "Lousy Some Of Nothing", a ballad for our post-truth age - but the band's optimism about the future remains clear and bright. Andy Bell explains: "...the reinterpretations have brought such enormous context to the songs, it has created a new place for them."

The original idea for the album developed from Vince Clarke, who initially suggested that a single from World Be Gone could be given an orchestral reinterpretation, but as the idea expanded and took shape, he spoke at length to Echo Collective ahead of the recording. "It was great to talk through ideas with Echo Collective and then see how their arrangements took shape. The collaboration has given elements of the album a whole new feel and Andy's vocals remain as powerful and uplifting as ever," says Clarke.

Erasure embark on a headline tour through Europe in January 2018 with support from Bright Light Bright Light before heading across the Atlantic for a massive North and South American tour - full details below.

For ticket details, visit http://po.st/ErasureLive

ERASURE 2018 TOUR

July 6 - Miami Beach, FL - Fillmore
July 7 - St. Petersburg, FL - Mahaffey Theater
July 8 - Orlando, FL - Dr. Phillips Center for the Performing Arts
July 10 - Atlanta, GA - Tabernacle
July 15 - New York, NY - Beacon Theater
July 17 - Boston, MA - House of Blues
July 18 - Philadelphia, PA - Merriam Theater
July 20 - Washington, DC - Warner Theater
July 22 - Pittsburgh, PA - Byham Theater
July 24 - Toronto, ON - Queen Elizabeth Theater
July 25 - Grand Rapids, MI - 20 Monroe Live
July 27 - Chicago, IL - Chicago Theatre
July 29 - Minneapolis, MN - State Theatre
July 31 - Indianapolis, IN - Murat
August 1 - Kansas City, MO - Uptown Theater
August 3 - Dallas, TX - Toyota Music Factory
August 4 - Houston, TX - Smart Financial Centre
August 5 - San Antonio, TX- Tobin Center for the Performing Arts
August 7 - Austin, TX - Austin City Limits Live
August 10 - Denver, CO - Opera House
August 12 - Salt Lake City, UT - Kingsbury Hall
August 14 - Seattle, WA - Moore Theatre
August 15 - Vancouver, BC - Orpheum Theatre
August 19 - San Francisco, CA - Masonic Auditorium
August 21 - Santa Barbara, CA - Arlington Theatre
August 22 - San Diego, CA - Symphony Hall
August 26 - Los Angeles, CA - The Wiltern

Enter to win!

Thanks for visiting EDGE!
Enter this contest
If you already have an account with EDGE, all you need to do is log in; we'll pull your address information from your account and simply ask you to verify it. If you do not yet have an account with us, register now! It's easy and free, and you'll never have to type in your personal information again. If you prefer to enter this information manually, you can use the manual entry link below.
Register
Manual Entry
Click here for contest rules.
* Please be aware that creating multiple accounts for the same person will disqualify you.