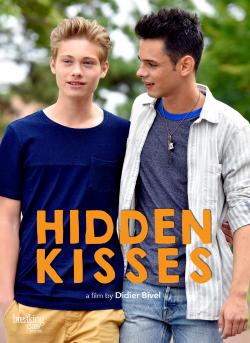 HIDDEN KISSES

Breaking Glass Pictures has acquired North American rights to director Didier Bivel's (We Need a Vacation) sensitive, coming-of-age tale HIDDEN KISSES. The film will have a DVD and digital release through iTunes, Amazon Instant, Google Play, and Vudu, as well as through local cable and satellite providers on December 5.

Described as "an important film that deserves to be seen" (Gay Themed Film Reviews) where "tears will well-up, memories will come alive and pain will be felt" (CGiii), HIDDEN KISSES premiered at the Luchon Film Festival, and was recently broadcast on May 17, 2017 on France 2 in honor of the International Day Against Homophobia. HIDDEN KISSES stars Jules Houplain (We Were Young, "Cassandre"), Patrick Timsit (Marie-Francine, Gangsterdam), Barbara Schultz ("The Blacklist", All Girls are Crazy), Bruno Putzulu (The Easy Way Out) and newcomer Bérenger Anceaux. Sixteen-year-old Nathan is the new kid in high school. One night, while attending a party, he falls in love with Louis, a boy in his class. Able to sneak away from the crowd, they find themselves out of sight, and eventually work up the courage to kiss each other...but someone takes notice. Soon, a picture is published on Facebook, and a storm of bullying and rejection overtakes their lives.

Enter to win!

Thanks for visiting EDGE!
Enter this contest
If you already have an account with EDGE, all you need to do is log in; we'll pull your address information from your account and simply ask you to verify it. If you do not yet have an account with us, register now! It's easy and free, and you'll never have to type in your personal information again. If you prefer to enter this information manually, you can use the manual entry link below.
Register
Manual Entry
Click here for contest rules.
* Please be aware that creating multiple accounts for the same person will disqualify you.