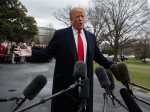 Special counsel Robert Mueller closed his long and contentious Russia investigation with no new charges, ending the probe that has cast a dark shadow over Donald Trump's presidency.
CNN's Dana Bash is learning the perils of doing personality profiles in a political city that's always on a war footing.
Within minutes of receiving notification that special counsel Robert Mueller had turned over his report on the Russia investigation, congressional Democrats were calling for the report to be fully released, including the underlying evidence.
Adult film star Stormy Daniels briefly appeared at the Illinois Capitol on Friday to protest the state's tax on strip clubs.
For Sean Hannity, the "witch hunt" was finally over. Rachel Maddow considered it the start of something.
Ryan Murphy's first Netflix show "The Politician" gets a release date and synopsis.
Special counsel Robert Mueller on Friday turned over his long-awaited final report on the contentious Russia investigation that has cast a dark shadow over Donald Trump's presidency.
Faith-based adoption agencies that are paid by the state of Michigan will no longer be able to turn away LGBT couples or individuals because of religious objection under a legal settlement announced Friday.
ABC is giving "The Conners" another go.
In their early days, the Beatles were called Johnny and the Moondogs and Coldplay went by Pectoralz. The rock band Wallows is no different.