Top Story
"On Becoming a God in Central Florida," starring Kirsten Dunst and debuting on Showtime Sunday, is a twisted take on the American dream.
1 thru 10 of 13938 Stories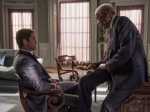 "Angel Has Fallen" easily topped the box office with a $21.3 million debut, according to studio estimates Sunday, as the action sequel became the latest mid-budget release to find modest success in the often quiet late summer.
Disney kicked things off with "Star Wars," revealing glimpses of some new footage from "Star Wars: Episode IX — The Rise of Skywalker." The film, which hits theaters Dec. 20, ends the Skywalker saga that began over 40 years ago.
Brazil's autocratic president has announced that the government of that nation will no longer provide funds for movies with LGBTQ content.
Cartoonish and over-the-top as expected, the third chapter in the John Wick franchise impresses with its fight choreography, but proves that there can be too much of a good thing.
Most people may know New Zealand actor K.J. Apa as Archie Andrew in the moody and sexy teen series "Riverdale" but the young celeb has found a new role: Starring in the new Christian film "I Still Believe."
Jillian Bell absolutely wins the race in the inspiring and authentic true story of one woman's journey to change her life - one sprint at a time.
Elizabeth Debicki & Gemma Arterton star as writers Virginia Woolf and Vita Sackville-West. The film dramatizes the complexities of their tumultuous relationship and their status as (privileged) sexual outlaws.
"Aniara" is a delicate and captivating piece of modern science fiction that deserves your attention, but its Blu-ray release leaves plenty to be desired.
A gross exploration of the trans community through the eyes of a lying straight cis white male who pretends to be trans in order to bed the lesbian he has his eyes on.
Small-town Tennessee teenager Austyn Tester seeks notoriety, attention, adventure, and adulation.
1 thru 10 of 13938 Stories