1 thru 10 of 2585 Stories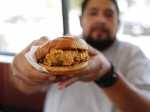 A nation already polarized finds itself divided once again, but this time politics isn't at the heart of it: The blame lies squarely on a fried piece of poultry.
Hasbro is going whole hog on Peppa Pig.
A popular gay Instagram user is speaking out after getting heat for posting a shirtless pic of himself alongside a shirtless Aaron Schock -- the disgraced former Republican Congressman from Illinois.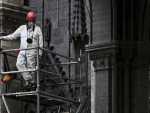 Specialists shoring up fire-damaged Notre Dame Cathedral were returning to the Paris site on Monday for the first time in nearly a month.
Breakfast, lunch and dinner at Burning Man is served with a side of playa dust that covers cars and clothing and finds its way into places where the sun doesn't shine.
Is Donald Trump good for the LGBTQ community? Log Cabin Republicans think so.
Fifty years after Woodstock, the mystical and messy event that gave birth to a myriad of musical festivals, the entertainment industry is diluted with festivals and events like it.
A New York man recently shared a text exchange he had with a man he met on Tinder and went out on a date. Their conversation is currently going viral on Twitter with some calling it a "horror film" and "true crime."
"Passengers" is a contemporary circus performance that blends acrobatics, theatre, illusion, music and dance that is making its US debut in September in Boston. EDGE spoke with two acro-artists about the show, and working with The 7 Fingers collective.
Verizon is selling Tumblr, a darling of early social media, to the owner of blogging platform WordPress.
1 thru 10 of 2585 Stories