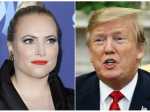 Meghan McCain says President Donald Trump's life is "pathetic" after his weekend Twitter attack against her father, the late Sen. John McCain.
Reality television star June "Mama June" Shannon has been arrested on drug charges in Alabama.
In his new memoir, "Girls" actor and Broadway star Andrew Rannells opens up about the sexual assault he endured from a Catholic priest when he was in high school.
Singer Sam Smith opened up a great deal in a new interview for "Good Place" star Jameela Jamil's new Instagram show "I Weigh Interviews" where he came out as gender non-binary and also revealed he got liposuction when he was 12 years old.
An acquaintance of R. Kelly's recalled how the singer once lugged a duffel bag everywhere — to recording studios, film sets and gyms. Stuffed inside, she said, was a collection of his homemade VHS sex tapes.
Wearing workout gear and carrying water bottles, fans of Supreme Court Justice Ruth Bader Ginsburg celebrated her 86th birthday Friday by exercising in front of the high court.
In one of the first lawsuits to come out of the college bribery scandal, several students are suing Yale, Georgetown, Stanford and other schools involved in the case.
The Hallmark Channel cut ties Thursday with favored star Lori Loughlin.
Imagine Dragons' Dan Reynolds is brushing the haters off his shoulders.
Fox News host Tucker Carlson said he's scuttling plans for a TV studio near his vacation home in rural Maine because of publicity.