Top Story
A-list celebrities seem to be opening their hearts — or at least their wallets — to Pete Buttigieg.
The mesmerizing journey of an undocumented trans girl in NY is the subject of this excellent movie produced by, and starring, over 50 members of the trans community.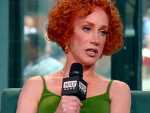 As if fallings out and feuds with CNN's silver fox and the president of the United States weren't enough, Griffin is also on the outs with lesbian comic Ellen DeGeneres. Griffin chatted about those feuds on "Good Day New York."
Broadway legend Patti LuPone took to Twitter Thursday to call out Republican Sen. Lindsey Graham and his sexual orientation.
This updated interview takes a look at Tom's new video for "Quayside," the new single from his forthcoming album "Territories." Tom opens up about making the video,
As authoritarianism spreads like fallout across the world and nationalism increasingly replaces cooperation within and between countries, Romanian filmmaker Radu Jude's incisive new film lands like a hand grenade.