TripAdvisor Uses A Rainbow Medley to Tell 'Straight Pride' Group to Cease and Desist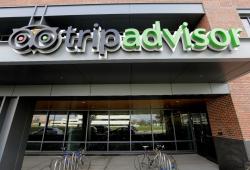 TripAdvisor didn't just join actor Brad Pitt and Netflix in telling the group behind Boston's upcoming so-called "Straight Pride" parade to stop misappropriating imagery and other intellectual property that the company had not agreed to allow them to use; the travel site went a step further and threw some musical shade at the group while doing so, reports local newspaper the Boston Globe.
The Globe reported that in its Cease and Desist notice, TripAdvisor pointedly made reference to LGBTQ and allied music acts such as Lady Gaga, Queen, The Village People, and Madonna, and playfully touched upon lyrics of songs - like Cyndi Lauper's "True Colors" - which are regarded as anthemic in the gay community.
UK newspaper the Independent also took note of the letter that was sent to John Hugo, one of the men behind Super Happy Fun America, the organization that sought and obtained permission for the parade, which is slated for August.
As reported last month at EDGE, Hugo and fellow "Straight Pride" parade organizers Chris Bertley and Mark Sadady allegedly have ties to white nationalist groups.
The parade's organizers had claimed that 25 major companies, including TripAdvisor, were "prospective sponsors" for the event. That claim seems, in at least a few cases, to be pure fiction. Last week, Netflix — also listed by Super Happy Fun America as a "prospective sponsor" — sent a notice to the group in response to the claim, and to the group having used the Netflix logo in their marketing efforts.
"We write to you for two reasons," the message from Netflix informed the group; "(1) to set the record straight that you are spreading misinformation about Netflix's involvement or sponsorship of your organization and its events; and (2) to notify you that you are infringing our trademark and other intellectual property rights and if you do not cease such use immediately we will have no choice but to consider further legal action."
Netflix summed up its stance with a memorable zinger:
"Our legal department is here, it's queer, and it's telling you to steer clear."
Super Happy Fun America lashed out in response, calling Netflix "a heterophobic company steeped in hatred and bigotry."
Of course, it's also possible that Netflix simply didn't want its logo and name to be pirated by a group with alleged ties to radical hate groups.
Sahady reportedly spearheaded two right-wing rallies in Boston that took place after the infamous "Unite the Right" rally that saw chaos and fighting erupt in the streets of Charlottesville, Virginia, two years ago. Those violent clashes unfolded as local police looked on, unwilling to intervene. The public disorder in Charlotte had been prefaced by a nighttime march by members of the so-called "alt-right," who carried torches and changed Nazi slogans. The debacle reached a nadir when one adherent of "alt-right" ideologies rammed his car into a group of peacefully marching counter-protestors, killing one young woman and injuring dozens of other people.
Each of the Boston rallies organized by Sahady drew only a handful of participants, while counter-protesters, energized by the tragedy in Charlottesville, turned out in force.
Moreover, Sahady purportedly took part in a demonstration last year in Portland, Oregon, joining violent fringe-right groups the Proud Boys (which is notorious for engaging in street fights) and Patriot Prayer. That demonstration, too, turned into a riot, media accounts said.
Finally, this past January Sahady, together with others affiliated with the extreme right group Resist Marxism, staged a counter-protest in Boston during a Women's March. More unrest resulted, according to media accounts.
Writer David Neiwert — author of the book "Alt America: The Rise of the Radical Right in the Age of Trump" — hinted to the press that the so-call "Straight Pride" parade might be a veil for a plan to spark still more public carnage.
"What we know about these street-fighting gangs is that they latch on to whatever they can in order to go out and fight with the left," Neiwert told the media.
Netflix's directive followed a sure-to-make-the-hate-group-not-so-happy demand from Brad Pitt — whom the parade's organizers had declared to be their "mascot" — to quit associating his name and image with their event.
In the wake of Netflix's directive, TripAdvisor rubbed little sparkle into the legal notification it sent telling the group to stop misappropriating its name. The Independent quoted from TripAdvisor's Cease and Desist notice:
These inaccurate statements, which I trust do not show your True Colours, infringe on TripAdvisor's rights under the Lanham Act and impinge upon our Freedom!
The Cease and Desist notice went on to say:
There is nothing Vogue or acceptable about making false claims about others merely to support your own cause. If I Could Turn Back Time, I would tell you not to use our name in the first place... You Make Me Feel (Mighty Real) disappointment that you thought this might be an acceptable way to do business.
The full letter from TripAdvisor to Hugo was tweeted out by WBZ reporter Liam Martin and retweeted by the company itself.
TripAdvisor is a proud and inclusive workplace. Our lawyers are definitely the most creative defenders of diversity! #TripPride @taylorswift13 @ladygaga @Madonna @cher @xtina @DianaRoss @cyndilauper @QueenWillRock @gloriagaynor https://t.co/xOAAUNf0td— TripAdvisor (@TripAdvisor) July 19, 2019
Kilian Melloy serves as EDGE Media Network's Assistant Arts Editor. He also reviews theater for WBUR. His professional memberships include the National Lesbian & Gay Journalists Association, the Boston Online Film Critics Association, The Gay and Lesbian Entertainment Critics Association, and the Boston Theater Critics Association's Elliot Norton Awards Committee.
Comments on Facebook