1 thru 10 of 6109 Stories
Sure, it's easy to Netflix and chill these days. Or Prime and recline. Or Hulu and ... well, whatever. But if you really want to savor a film, there's still no substitute for a movie theater.
A new focus on cold-weather military training trains U.S. troops to fight against a more capable, high-tech enemy like Russia, North Korea or China.
Two men who placed an order at a Little Caesar's Pizza in Henrico Country, Virginia, found that the word "Gay" had been printed on their receipt.
Every day many millions of gallons of water loaded with arsenic, lead and other toxic metals flow from some of the most contaminated mining sites in the U.S. and into surrounding lakes and streams without being treated.
New Zealand's government plans a new tax targeting online giants like Google and Facebook that earn plenty of money in the country but pay little tax.
Major U.S. airlines say they will soon change their ticketing process to give passengers the option of identifying themselves as other than male or female.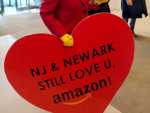 Amazon's breakup with New York was still fresh when other cities started sending their own valentines to the online giant.
The billion-dollar Olympics are awash with cash. But volunteers work for free. That's the case next year at the Tokyo Olympics and Paralympics, where about 80,000 volunteers will be needed.
A federal utility board voted Thursday to close a coal-fired power plant in Kentucky, rejecting pleas from President Donald Trump and U.S. Senate Majority Leader Mitch McConnell and handing the coal industry a defeat in its backyard.
What they didn't expect was the protests, the hostile public hearings and the disparaging tweets that would come in the next three months, eventually leading to Amazon's dramatic Valentine's Day breakup with New York.
1 thru 10 of 6109 Stories