1 thru 10 of 6472 Stories
A wiry woman, Querida Barequinha intently sorts through the coffee beans laid out on racks to dry in the sun, plucking out any that are cracked or misshapen.
Corporate adventures into social issues aren't always well thought out or received. For example, consider this year's Pride celebrations: Brands were not seen as authentic advocates, but instead as paying for exposure.
Just a week after announcing its $1.4 billion acquisition of Gannett , GateHouse Media was again laying off journalists and other workers at its newspapers, possibly foreshadowing the future awaiting employees.
At a four-hour meeting last month, Michelle Abdow's staffers got to experience some of the sights, sounds and even smells they could encounter if someone invaded their office and began shooting.
David H. Koch, executive vice president of Koch Industries Inc. and a long-time philanthropist, has died at age 79.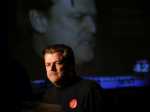 The CEO of Overstock.com has resigned, saying he'd become "far too controversial" to helm the e-commerce company known for selling discounted sofas and jewelry.
Hasbro is going whole hog on Peppa Pig.
Hasbro is giving plastic packaging the boot. The toy maker said Tuesday that all its packaging for new products will be mostly plastic free by the end of 2022.
Out with the new and in with the old. As department stores watch their customers flock to second-hand stores, some are trying to bring them back by partnering with online resale sites.
Magnum has tendered an apology for the Spotify ad that shocked British listeners recently when an accented male voice narrated a comparison between the "guilty pleasure" of a same-sex hug and the enjoyment of ice cream.
1 thru 10 of 6472 Stories